FREE Express Postage for ALL orders over $350.00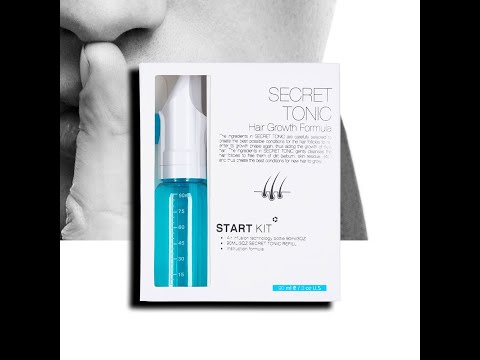 Secret Tonic Lotion – Refill
Secret Tonic Lotion cleanses the scalp and stimulates the hair follicles to promote new hair growth.
1 Refill box contains one 90ml sachet of Tonic Lotion.
The ingredients in SECRET TONIC are carefully selected to create the best possible conditions for the hair follicles to re-enter its growth phase again so that new hair can grow. The ingredients in SECRET TONIC cleanses the hair follicles free of dirt (sebum, skin residue, etc.) and thus create the best conditions for hair to grow.

SECRET TONIC LOTION contains active nutrients that help to create better conditions for new hair to grow. You will finally find your scalp, which may have been in imbalanced, become fresh again and free of any coatings and itching. (eg from Psoriasis, dandruff, oily scalp)

Once the scalp has regained its optimum moisture balance and the blood's ability to get to the hair root, which is one of the most important preconditions for hair growth, you have created the optimal conditions for your hair can grow again.




Apply tonic directly to scalp daily with the Air Infusion Technology Bottle that is in the Starter Kit.

Use Massage Brush to help spread evenly over scalp, gently working the tonic into the follicles promoting thicker hair. (Brush also in the Starter Kit or you can purchase separately)

- Instruction Formula
- Massage Brush

When can I expect to see the result?
You will quickly notice a change just after a few weeks, but you must expect that the result is only visible after 3-4 months and the optimal result is seen after 5-6 months.

Why does it take so long to see the results?
The product works efficiently to get the scalp in the right moisture balance and cleanses the scalp for any DHT, while also increasing blood circulation to nourish the hair follicle. The first 1-2 months, the scalp will slowly come back into its natural balance and then the hair will begin to appear again. So it is only after 4-6 months that you will expect to grow stronger, fuller hair.
The new generation of Hair Growth product SECRET TONIC LOTION is developed and designed to dissolve and cleanse the scalp for DHT that has clogged the hair follicle and at the same time increase blood circulation to create more nourishment for the roots. The unique ingredients and nutrients in this product have been carefully selected to create the best possible conditions for the hair follicle to re-enter its antigen phase so that the hair can again grow uninhibited by clogging of DHT 76% effective hair growth results.

Aqua, Alcohol, Isopropyl Alcohol, Menthol, Acrylates/C10-30 Alkyl Acrylate Crosspolymer, Aloe Barbadensis Leaf Juice, Calendula Officinalis Flower Extract, Glycerin, Sodium Benzoate, Potassium Sorbate, Tetrahydroxypropol Ethylenediamine.
Share your fabulous reviews!
Gain some points
Introduce your brand, products and vision statement and welcome customers to your store.